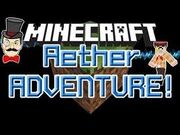 The Aether Adventure is a series of videos about GameChap living and mining in the Aether and beating the final boss in single player, but Bertie can be heard throughout the adventure. The viewers of the series probably know about the Aether and installed it. There is not much more about the series, other than it's just awesome. There are a lot of questions, like "Is Herobrine in the Aether?" This series is quite famous among fans. Please note that this can not be done in Vanilla,  the Aether is a mod.
Also notable is that it was during this series that GameChap first mentioned his Golden Sword of Justice.
It was also here that GameChap and Bertie tamed Jim the Flying Pig, a pet that is referenced in several other videos by them.
Ad blocker interference detected!
Wikia is a free-to-use site that makes money from advertising. We have a modified experience for viewers using ad blockers

Wikia is not accessible if you've made further modifications. Remove the custom ad blocker rule(s) and the page will load as expected.