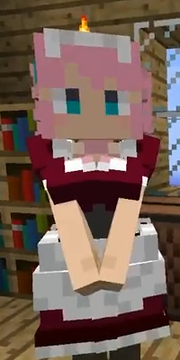 Beverly has dark blue eyes and light pink hair pulled into two curly pigtails. She is often seen wearing a red maid dress and also wears a white maid's hat. when helping GameChap fight off mobs
Information
Edit
Beverly was once possessed by Herobrine. Beverly is a Supporting Character and a maid serving under GameChap. She is frequently seen when the Chaps review a mod that LittleMaidMob is compatible with and she often tries to protect her master. If Beverly does not pay diligent attention to the commands GameChap has provided, she may interrupt his demonstrations in such ways as slaying a mob he intended to use as a target. Sadly, her devotion tends to lead to her rather untimely ends due to unfortunate accidents that are "nothing to do" with Bertie. She may also be killed by Bertie.
She seems to be quite rude as she is at several points seen mooning the villagers whenever the chaps are in a building with large windows. Gamechap or Bertie will usually order her to stop.
Sometimes, Beverly hides in the Bob-O-Meter in GCHQ, which would be revealed when either two open it.
Ad blocker interference detected!
Wikia is a free-to-use site that makes money from advertising. We have a modified experience for viewers using ad blockers

Wikia is not accessible if you've made further modifications. Remove the custom ad blocker rule(s) and the page will load as expected.