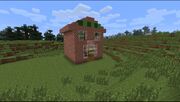 The Creeper Construction Co. is a corporation formed by a group of creepers supposedly aimed at being construction workers, but they always instead demolish buildings and parts of land near the player. They even once killed GameChap because his payment was not due on time.
Lessssson 1: A good creeper always keeps our world on a 2D, because we don't always want our cussstomersss waiting...
Lessssson 2: A good creeper always repairs an ugly houssse (but later blows up the testificate house).
Lessssson 3: A good creeper always get rid of the lights of the fisherman, otherwise the fishesss won't come.
Ad blocker interference detected!
Wikia is a free-to-use site that makes money from advertising. We have a modified experience for viewers using ad blockers

Wikia is not accessible if you've made further modifications. Remove the custom ad blocker rule(s) and the page will load as expected.