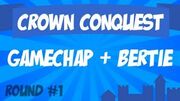 The Crown Conquest is a Collaboration and PvP event between many famous Youtubers (CaptainSparklez, Hatfilms, Inthelittlewood, etc.). The goal of the event is for players to find 1 out of the 3 crowns and make it to the top of the Lava Mountain.
The result of the first round showed Lewis winning the first crown, and GameChap winning the second crown. The third crown burned in the lava.
Gamechap's main strategy, since he was unable to find weapons at the start, was to wait out the other contestants with Bertie. He made a run for it when someone died on the lava mountain and stole their crown, claiming a spot on the podium. In a shocking display of bad sportsmanship, Lewis punched him off the mountain.
Ad blocker interference detected!
Wikia is a free-to-use site that makes money from advertising. We have a modified experience for viewers using ad blockers

Wikia is not accessible if you've made further modifications. Remove the custom ad blocker rule(s) and the page will load as expected.