Sir Trottingtonne-Clopsworthy is GameChap's horse, which he introduced in the video titled "Minecraft NEW HORSES in 1.6! First look!"  Trottingtonne was not officially named, however, until the video titled "Minecraft NEW LEASHES in 1.6!" Trottingtonne is protected by the Golden Horse Armor of Justice, and isn't mentioned much in the videos now that 1.6 is actually out.
Sir Trottingtonne-Clopsworthy was unnamed until the video that introduced leashes to Minecraft so that GameChap could ask his followers on twitter for name suggestions.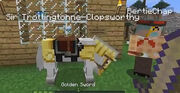 Ad blocker interference detected!
Wikia is a free-to-use site that makes money from advertising. We have a modified experience for viewers using ad blockers

Wikia is not accessible if you've made further modifications. Remove the custom ad blocker rule(s) and the page will load as expected.