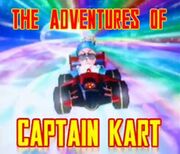 The Adventures of Captain Kart was the first video and show posted by AdamZoneTopMarks on Youtube on October 19, 2010. The show tells the tale of a hero named Captain Kart bringing Kart justice to the Mario Kart World.
It's possible that Captain Kart could be GameChap, but some fans speculate that he could be Bertie as well.
There was a second episode but it was deleted, in which he fought a Spaniard (Bertie's voice) in the Nitrocycle and lost. They had a rematch and Captain Kart was victorious.
Unlike the future work that GameChap has worked on. This is the first time we ever see GameChap him self green screening him self into an image.
The music heard in the intro is a Super Smash Bros Brawl remixed version of the Metal Gear 2: Solid Snake theme.
Ad blocker interference detected!
Wikia is a free-to-use site that makes money from advertising. We have a modified experience for viewers using ad blockers

Wikia is not accessible if you've made further modifications. Remove the custom ad blocker rule(s) and the page will load as expected.