Some of us need to re-read the rules because I have had some issues recently, namely spamming. Here's my story.
Gallery of rasin toast?!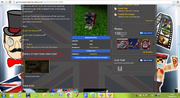 If you saw this what would you think? I personaly began laughing because it was quite random and, you know me, I like being random too, but this was going too far. I normaly just say random yet in a way related things in comments or in chat, but this was spamming. I have now got rid of this title and replaced it with just gallery. The spammer has not been caught yet but me and private what's-his-name are on the case.
Keep up the good work, chaps!
Ad blocker interference detected!
Wikia is a free-to-use site that makes money from advertising. We have a modified experience for viewers using ad blockers

Wikia is not accessible if you've made further modifications. Remove the custom ad blocker rule(s) and the page will load as expected.